Clipping Magic can help you separate out hair from clean and distinct backgrounds. Gradients and some noise typically work, as long as the colors involved are sufficiently different. Studio shots and photos with e.g. a clear blue sky as the background typically work well. Busy backgrounds do not work as well, or require a fair amount of labor to get a decent result. This tool takes a bit of time to master so we've supplied a tutorial video, as well as written instructions; plus tips and tricks to really master clipping hair!
---
Step-by-step tutorial
In the tutorial below we remove the background from the hair in this photo. You can follow along with this written tutorial, or try out this image for yourself in the Editor. View Example In Editor »
The example edits are slightly different from the tutorial below.
1.

Start as usual

Mark foreground and background as usual, until you have a decent rough-cut result where the hair is cropped into a bit of a bob, but otherwise pretty good.
Original
Original + Marks
Result
---
2.

Highlight the hair

Use a Hair Brush and highlight the hair.
Clip Tip:
Stay pretty tight to the area that is actually partially transparent.
---
3.

Eyedrop

The algorithm works by using two palettes: one for the foreground and one for the background.
As soon as you've added some colors to each palette, the foreground should start separating from the background.
Original
Original + Marks
Result
Tips & Tricks
Cycle Background Color
Cycle the background color to better see what the result would look like when put onto different backgrounds. Add / remove colors from the palettes and alter the highlights until you're happy with the result.
---
Color Sections
Hair sometimes has a different color on the left vs on the right side of the face. The same is true for the background.
Since the algorithm is quite sensitive to the palettes chosen and the actual colors in the image, it can sometimes help to separate the image into different Color Sections and use a different Hair Brush for each.
---
Halos
If you include too light of a color in the foreground, the partially transparent pixels at the edge of the hair can be mis-classified as lighter than they should be and cause a halo effect.
To resolve this, you can either try using a separate Hair Brush for the lighter section of the hair, or you can remove the highlight from the light section.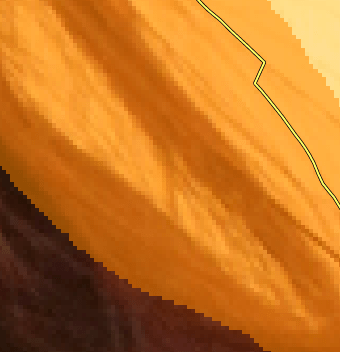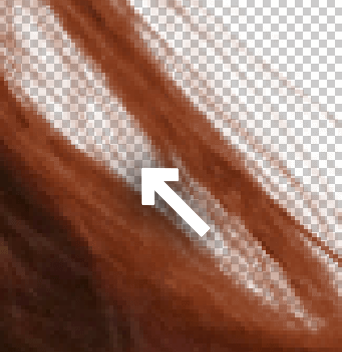 ---
Conflicting Colors
Hair oftentimes has highlights that partially match the background, or cause halos.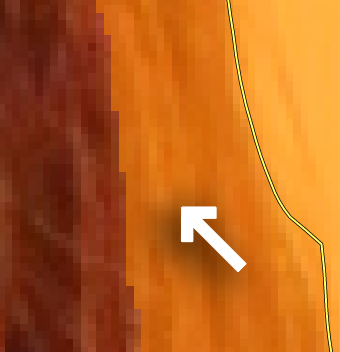 Be sure to not highlight these parts, or they will be partially removed.
---
Gradients
Backgrounds often look flat but are actually gradients. This can lead to 'dirty' areas in the result.
Be sure to pick up all relevant background colors to get rid of the dirt.